NC State IPM Is Now on Facebook and Youtube!
Posted On

April 2, 2019
We have launched a new Facebook page @NCIPMExtension where we'll offer interesting IPM information including videos, articles, and other topics that you may find helpful across agriculture and horticulture commodity crops, home gardens, invasives, pollinators and beneficial, and lawn and landscapes.
Some of the most recent posts include:
April is Invasive Plant Pest and Disease Awareness Month
Concern in NC Mountains about frost damage to apple, pear, and peaches
Apple Trees dying across America and no one seems to know why?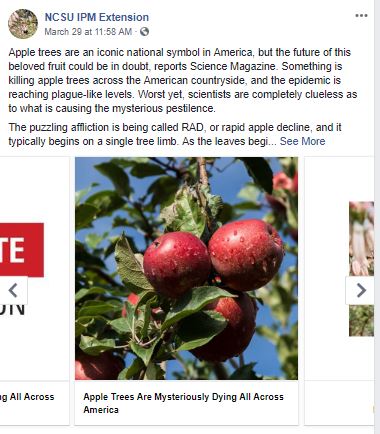 ALERT – Relatively High Aphids levels in North Carolina Wheat
Strawberry Frost Protection Measures
Keep up with all our socials by following us on Twitter @NC_EIPM, YouTube with videos of the 2019 NC State IPM, and, of course, follow us on Facebook!
We look forward to bringing you lots of great information and keeping in touch. We hope you comment on our posts and feel free to ask any questions or share our content with friends and family who would benefit from the information. Spread IPM awareness with us!