How Seeding Rates Can Affect Species Composition in Pollinator Planting
USDA NRCS | 1/2/2019
Now that fall is coming to an end and winter begins to show its face, it is time to start thinking about establishing pollinator plantings. One thing to consider is what species to plant, and which species are best adapted and most compatible in a multiple species mixture. In 2016, the staff at the Elsberry, Missouri Plant Materials Center (PMC) planted a demonstration pollinator planting to investigate the establishment of multiple plant species beneficial to the Monarch butterfly and other valuable pollinators.
Species were selected from the conservation practice standard for rare and declining habitats (NRCS conservation practice 643), and a list of milkweed species recommended for the Midwest. Ten species were selected for their value to Monarch butterflies, commercial availability of seed, seed expense, and bloom time in relation to the presence of Monarch butterflies in the Midwest (May through September). Listed below are the native forb species used in the demonstration planting along with their composition in the mix.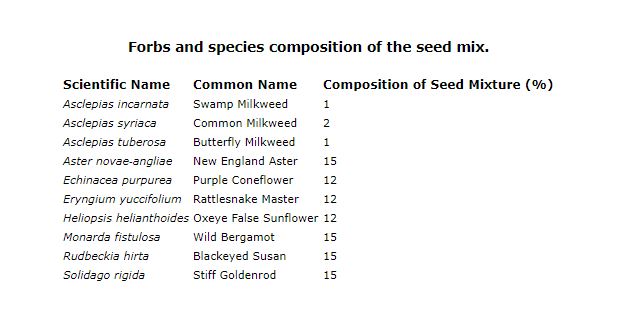 The planting was seeded at the PMC in February 2016 as a winter dormant planting at a rate of 20 and 40 seeds/ft2. First-year management consisted of mowing the planting 3-4 times to control weeds that would potentially outcompete the native forb seedlings. In 2017, the planting began to mature, and several species began to show their beautiful flowers.
Evaluations indicate that while the higher seeding rate did increase the abundance of species, it was not significantly higher for most.
Continue reading for more information.