Stink Bug Decision Aid Card Measures Up to Big Savings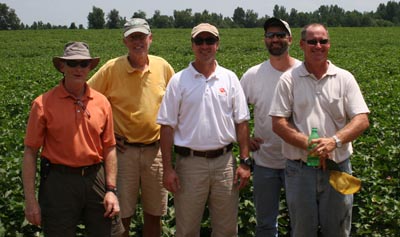 If you've battled stink bugs in the past, you know that trying to manage them effectively can seem like a guessing game. Treating too early or too late means either wasted insecticides or economic losses from a damaged crop. With those issues in mind, university extension entomologists in the Southeast developed a way to help growers determine if—and when—to treat for stink bugs. In addition, the group that developed the card will receive the Friends of Southern IPM Bright Idea award next month at the Southeastern Branch ESA meeting.
After developing a dynamic threshold to help growers determine stink bug pressure, entomologists from North Carolina State University, Virginia Tech, the University of Georgia and Clemson University needed to develop a way to help growers quickly gauge the correct boll size for damage assessments. Previous work had revealed that most economic damage seemed to occur when bolls were between 0.9 and 1.1 inches, roughly the diameter of a quarter. Before and after that stage, boll damage was not well correlated with yield loss. So in addition to using the dynamic threshold, growers also had to sample bolls that were about one inch in diameter.
However, when members of the extension team collected bolls that they assumed were the correct size, they discovered that eyeballing quarter-size bolls was less precise than they had thought. So to aid farmers in finding quarter-size bolls, they developed a plastic decision aid field card with two punched-out holes, one that measured 0.9 inches and the other that measured 1.1 inches. Bolls that fit through the larger hole but not the small one met the quarter-size criteria and would be chosen for later examination.
Each card is also its own self-contained manual: it contains pictures of stink bug damage symptoms, directions on how to sample bolls and a table with boll damage changes based on week of bloom. In addition, cards show the university logo for their corresponding state: North Carolina growers and consultants use cards with an NC State University Extension logo, while South Carolina growers use cards with a Clemson Extension logo, and so on. In 2011, the use of these cards was expanded to areas of the Mid-south, Texas and Oklahoma where sting bug damage was an economic concern.
Agricultural consultants in North Carolina have been realizing the card's value; based on a 2011 survey of all licensed independent crop consultants, about 80 percent used the cards to aid with sampling. When asked how useful the tool was in determining stink bug thresholds, consultants rated the card at an "8.1" on a 10 point scale. Bacheler says that they sent cards for use in Arizona in 2012, and interest was expressed about their possible use in Brazil as well.
An impact evaluation specialist at the Southern IPM Center estimated that if every cotton producer in North Carolina alone had used the decision aid card and dynamic threshold in 2011, they would have saved $65 million more than they would by using the static 20% threshold.
The decision aid card has made such an impact on stink bug control that it won a regional Friends of IPM Bright Idea award from the Southern IPM Center. The Bright Idea award is one of six Friends of IPM Award and recognizes innovative ideas in IPM. Bacheler's nomination was one of seven submitted for that category.
The project—from the development of the dynamic threshold to the manufacturing of the decision aid card—was funded by grants from Cotton, Incorporated and the Southern Region IPM Center at NC State University.
Both consultants and growers are using the dynamic threshold.
"There are some years where stink bug pressure is high and other years where it's low, so calendar-based sprays are not very effective" says Jack Bacheler, an entomologist at NC State University and one of the researchers who developed both the threshold and the decision aid card. "The dynamic threshold is much better than the previous static thresholds because the threshold changes are based on times of maximum and minimum crop susceptibility to stink bug damage."
Growers and consultants can obtain a decision aid card by contacting one of the following extension entomologists:
Alabama
Ron Smith, Auburn University, smithrh@auburn.edu or 334-844-6394
Georgia
Phillip Roberts, University of Georgia, proberts@uga.edu or 229-386-3424
North Carolina
Jack Bacheler, NC State University, jack_bacheler@ncsu.edu or 919-515-8877
South Carolina
Jeremy Greene, Clemson University, greene4@clemson.edu or (803) 284-3343
Virginia
Ames Herbert, Virginia Tech, herbert@vt.edu or (757) 657-6450 ext. 411
Written by: Rosemary Hallberg, Communication Specialist, Southern Region IPM Center, 919-513-8182 or rhallberg@sripmc.org
Date: February 12, 2013
Updated on Apr 10, 2014
Was the information on this page helpful?
This page can also be accessed from:
go.ncsu.edu/readext?277719