Current Western NC Orchard Pest Populations Weekly Summary, July 6 2015
We track local insect populations throughout the growing season using a system of traps, temperature-recording devices, and degree-day models. Traps and weather data are checked weekly, with results updated by Tuesday afternoon from April through September. Learn more about southeastern apple pests at the Apple Pest Management page.
---
Weekly summary
JULY 6, 2015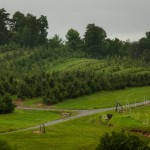 Codling Moth:  Second generation codling moth flight is well underway in the foothill and piedmont production areas, and is just beginning to emerge in Henderson County. The need for insecticide sprays should be based on degree-day accumulations and pheromone trap captures. Where populations are low (trap captures of moths do not exceed 3 to 5 moths per trap per week and where no damage occurred by the first generation), a single application between about 1450 to 1550 DD is usually sufficient. In instances where trap captures are higher, a second application will probably be necessary about two weeks later. In orchards using mating disruption and where pheromone trap captures remain low, there is usually no need for insecticides against second generation codling moth.  In general, codling moth populations have been quite low this year.
Oriental Fruit Moth:  We are beyond the time when the degree-day model is an accurate predictor of OFM flight, because overlapping generations make it difficult to predict distinct generations beyond the second generation. However, increased activity of OFM often begins in mid to late July and can remain intense into September. Because OFM populations can vary considerably among locations, the use of pheromone traps to monitor population densities in individual orchards is particularly important. Even if pheromone trapping has not been used up to this point in time, it is not too late to benefit from starting a monitoring program at this time. While moth captures have not yet begun to increase at our monitoring sites in Henderson County, the same may not be true in other locations. It should also be noted that OFM sprayable pheromone is an effective alternative to insecticides for managing late-season OFM. Two applications, the first in mid to late July and the second in late August, have been effective in previous years. Remember, OFM should not be a concern in those orchards treated with dual-pheromone dispensers (codling moth + OFM) for mating disruption earlier in the year – i.e., Isomate CM-OFM or Puffers.
Brown Marmorated Stink Bug:  Based on degree-day accumulations, first generation BMSB adults are expected to begin to emerge in piedmont locations later this week, and probably in about two weeks in higher elevations. Based on data from 2012-2014, first generation adults began to emerge between 450 and 500 DD after biofix (May 13), and peak emergence occurred about 600-700 DD. Degree-day accumulations in Cleveland County and Henderson County are currently about 475 and 375, respectively. Where populations are high, expect to see larger numbers of adults in apples and peaches in the next several weeks.
Update on Section 18 Request for Bifenthrin and Dinotefuran for Control of BMSB:  For the past two years the EPA has approved regional Section 18 label requests for the pyrethroid bifenthrin and neonicotinoid dinotefuran for control of BMSB in apples and peaches. The EPA has again approved bifenthrin – sold as Brigade WSB (FMC) and Bifenture EC and 10DF (UPI Inc.) – for use in NC in 2015. The request for dinotefuran – sold as Venom (Valent USA) and Scorpion (Gowan) – has not yet been approved, but a decision is expected soon. Click on the product names to download a copy of the label:
---
Average Weekly Trap Captures*
HENDERSON COUNTY

Insects per trap

June 22


June 29


July 6


1.3

2.7

2.0

2.5

4.3

2.3

3.5

1.5

0.5

0.0

0.5

1.0

0.0

1.0

0.0

0.0

1.0

0.0

0.5

0.0

0.0

1.5

0.8

0.8

57.0

27.0

30.0

59.0

84.0

14.0

18.0

32.0

33.0

53.5

42.0

14.5

1527.5

7675.0

7412.5
*Note that averages presented here are intended only to illustrate the timing of insect emergence and fluctuations in population activity, and not as general indicators of population levels. Some orchards included in these averages have significantly higher or lower populations than most commercial orchards in the area, resulting in averages that are sometimes skewed from what is typical. The only way to have an accurate assessment of an individual orchard's populations is to set up traps in that orchard.
---
Accumulated Degree Days
Henderson County

 Biofix

June 22


June 29


July 6


Codling Moth

April 23

1012

1176

1311

Oriental Fruit Moth

Apr 6

1544

1771

1903

Tufted Apple Bud Moth

April 23

1284

1476

1643
About degree-day models:The degree day (DD) models predict adult emergence and egg hatch of each generation. They do not predict the intensity of populations, which can be assessed by using pheromone traps. Hence, the models should be used to help gauge the time period when control is most likely needed, and pheromone traps provide information on the need for and frequency of insecticide applications. For full details, read "IPM Practices for Selected Pests" in the Orchard Management Guide.
CODLING MOTH:
1st generation: Egg hatch begins at about 350 DD after biofix and is completed by 1050 DD. The most critical period for insecticidal control is from 350 to about 750 DD.

2nd generation: Egg hatch of the second generation can extend from about 1300 to 2600 DD after biofix, but the most critical period for insecticidal control is 1400 to about 2500 DD.

3rd generation: Adults begin to emerge at about 2500 DD after biofix, but the model is less accurate in predicting late-season populations.
ORIENTAL FRUIT MOTH:
1st generation: Only one insecticide application between 400 and 500 degree days is usually necessary, as 1st generation egg-laying is usually low on apple.

2nd generation: Effective 1st-generation control may eliminate the need for 2nd-generation control. If trap captures remain high, insecticides may be needed around 1100 to 1400 DD.

3rd generation: Insecticide may be needed at 2200 DD after biofix.

4th generation: Overlapping generations late in the season make it difficult to predict when 4th-generation egg hatch begins, but continuous egg-laying can occur from August through October. Use traps to determine the need for further insecticide applications.
 TUFTED APPLE BUD MOTH:
1st generation: One well-timed insecticide application between 800 and 1200 DD after biofix will often eliminate the need for further control of TABM.

2nd generation: Only if trap captures exceed 25 moths per trap by 2600 DD is an insecticide application recommended. NOTE: Insecticides targeting 2nd generation TABM are usually not necessary if 1st generation populations were successfully controlled.