Current Western NC Orchard Pest Populations, July 20 2015
Find this article at:
go.ncsu.edu/readext?367235
We track local insect populations throughout the growing season using a system of traps, temperature-recording devices, and degree-day models. Traps and weather data are checked weekly, with results updated by Tuesday afternoon from April through September. Learn more about southeastern apple pests at the Apple Pest Management page.
---
Weekly summary
July 20, 2015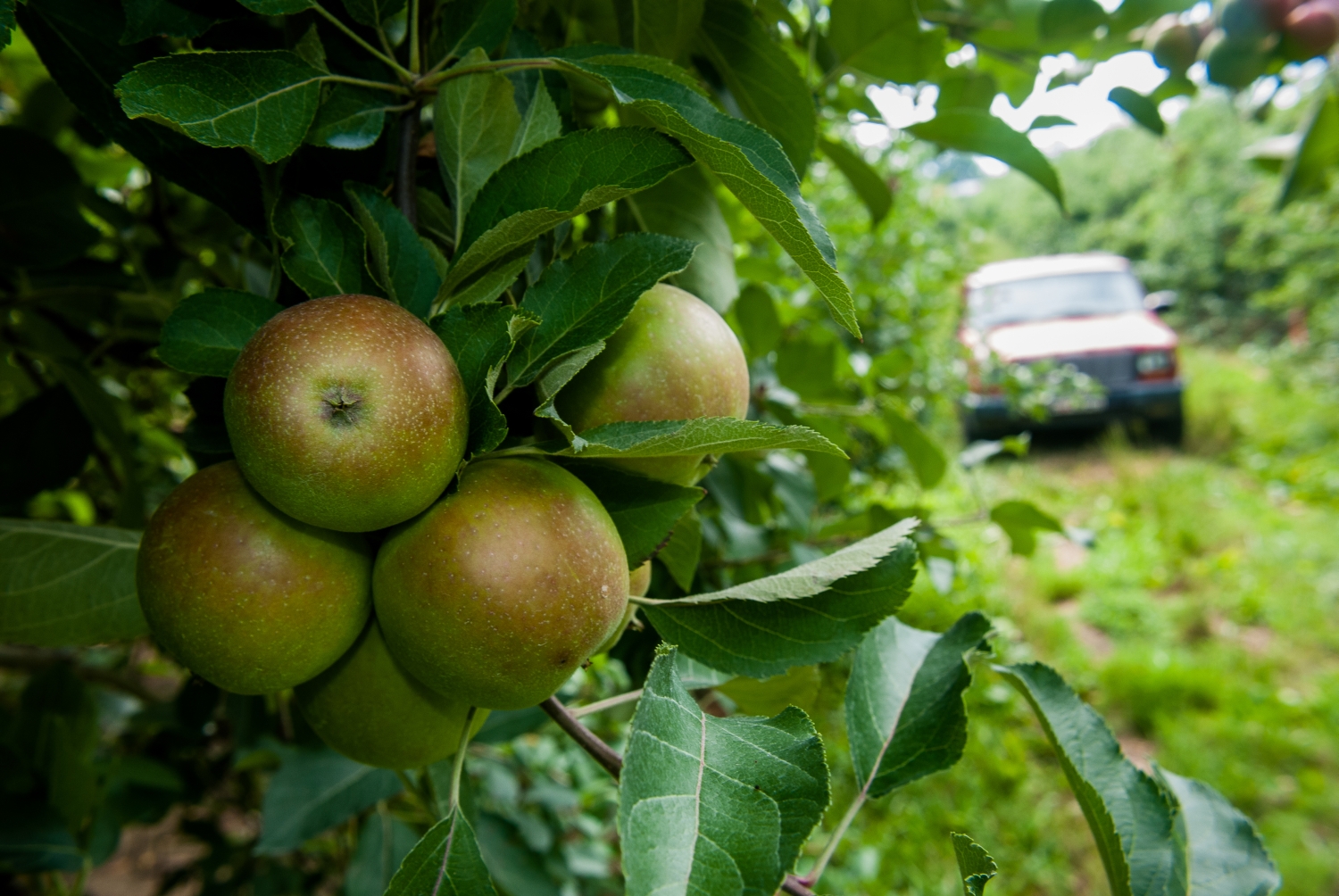 Overall insect pressure on apples is quite low at this time. In addition to relatively low trap captures, recent surveys for fruit damage in commercial orchards have found very little insect damage. Some early season plum curculio and plant bug damage was most common, with stink bug damage beginning to show up.
There have been several reports of what appear to be larval infestations of second generation plum curculio in peaches in the piedmont and eastern region of the state. This damage was likely the result of adults laying eggs in fruit approximately three weeks ago.
Codling Moth:  In Henderson County, degree-day accumulations average about 1700; this coincides with emergence of about 75% of second generation moths. While codling moth remains a threat in this area, populations have been extremely low this year. In most orchards where we are monitoring, pheromone trap captures have averaged less than 1 moth per trap per week. In addition, virtually no fruit damage has been observed in an extensive survey of commercial orchards during the past two weeks. While insecticide sprays should not be necessary under these conditions, one cannot make this assumption if not monitoring with pheromone traps.
In lower elevation orchards, such as Polk, Lincoln and Cleveland Counties, second generation flight is complete. While there is sufficient time for a third generation to emerge, the probability is very low in those orchards where there is no damage caused by first or second generation larvae. Again, the need for insecticide sprays should be based on pheromone trap captures.
Oriental Fruit Moth:  Moth captures in pheromone traps were low during the past week. Unless trap captures exceed 7 to 10 moths per trap per week, control measures specifically targeting OFM are probably not necessary. In those orchards where trap captures have remained high for several weeks, application of sprayable OFM pheromone may be warranted. Two applications at three to four week intervals, with the first in late July or early August, is often more effective than insecticides late in the season.
Apple Maggot:  First captures of apple maggot on baited red spheres in two abandoned orchards occurred this week. However, an average of only two flies per trap was caught, which is a very low number. It is unlikely that populations are a threat in commercial orchards at this time.
Brown Marmorated Stink Bug:  Large numbers of first generation adult BMSB are present in many areas of the piedmont regions of NC, extending from the foothill counties eastward to approximately Rockingham, Guilford, Randolf and Stanly Counties. Adults are also beginning to emerge in higher elevation mountain counties. Tree fruit (and many vegetable crops) adjacent to wooded areas are at greatest risk for damage.
Dinotefuran Section 18 Approved for BMSB Control on Apples:  Several weeks ago it was reported that the EPA had approved the emergency exemption request (Section 18) for bifenthrin to control brown marmorated stink bug on pome and stone fruit. Last week dinotefuran was approved, and will be available as Venom (Valent USA) and Scorpion(Gowan). Dinotefuran only has a 3-day PHI, so it would probably be best to use this product later in the season when control close to harvest is necessary. Only two dinotefuran applications per year are allowed, regardless of the formulation used. Below are links to Section 18 labels for Venom and Scorpion.
---
Average Weekly Trap Captures*
*Note that averages presented here are intended only to illustrate the timing of insect emergence and fluctuations in population activity, and not as general indicators of population levels. Some orchards included in these averages have significantly higher or lower populations than most commercial orchards in the area, resulting in averages that are sometimes skewed from what is typical. The only way to have an accurate assessment of an individual orchard's populations is to set up traps in that orchard.
---
Accumulated Degree Days
 
Henderson County
 Biofix
July 6

July 13

July 20

Codling Moth
April 23
1311
1480
1662
Oriental Fruit Moth
Apr 6
1903
2098
2315
Tufted Apple Bud Moth
April 23
1643
1839
2055
About degree-day models:The degree day (DD) models predict adult emergence and egg hatch of each generation. They do not predict the intensity of populations, which can be assessed by using pheromone traps. Hence, the models should be used to help gauge the time period when control is most likely needed, and pheromone traps provide information on the need for and frequency of insecticide applications. For full details, read "IPM Practices for Selected Pests" in the Orchard Management Guide.
CODLING MOTH:
1st generation: Egg hatch begins at about 350 DD after biofix and is completed by 1050 DD. The most critical period for insecticidal control is from 350 to about 750 DD.

2nd generation: Egg hatch of the second generation can extend from about 1300 to 2600 DD after biofix, but the most critical period for insecticidal control is 1400 to about 2500 DD.

3rd generation: Adults begin to emerge at about 2500 DD after biofix, but the model is less accurate in predicting late-season populations.
ORIENTAL FRUIT MOTH:
1st generation: Only one insecticide application between 400 and 500 degree days is usually necessary, as 1st generation egg-laying is usually low on apple.

2nd generation: Effective 1st-generation control may eliminate the need for 2nd-generation control. If trap captures remain high, insecticides may be needed around 1100 to 1400 DD.

3rd generation: Insecticide may be needed at 2200 DD after biofix.

4th generation: Overlapping generations late in the season make it difficult to predict when 4th-generation egg hatch begins, but continuous egg-laying can occur from August through October. Use traps to determine the need for further insecticide applications.
TUFTED APPLE BUD MOTH:
1st generation: One well-timed insecticide application between 800 and 1200 DD after biofix will often eliminate the need for further control of TABM.

2nd generation: Only if trap captures exceed 25 moths per trap by 2600 DD is an insecticide application recommended. NOTE: Insecticides targeting 2nd generation TABM are usually not necessary if 1st generation populations were successfully controlled.