Stick It to Cankerworms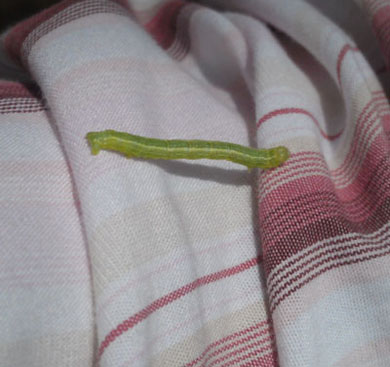 In spring 2012, a cankerworm outbreak occurred in many North Carolina cities. Hundreds of silk threads blocked sidewalks on campus. Students became tangled in threads and covered in caterpillars as they walked to class. I got a lot of calls and emails from landscapers and arborists wondering why there were so many caterpillars. "Are these cankerworms?" they would ask. "Will my trees die? What can I do?" I will answer some of these questions in this article. Others will have to wait until our research is done this year.
Spring cankerworm (Paleacrita vernata) and fall cankerworm (Alsophila pometaria) are different species but have very similar characteristics. They both feed in the spring on the leaves of many different deciduous trees. Hosts include oak, elm, maple, and others. Willow oak was the tree species most heavily infested in Raleigh, Charlotte, Durham, and other cities. Cankerworms can defoliate trees but 10-50% defoliation seemed most common. A year or two of defoliation will not generally affect the long-term health of large trees. However, they will be ugly the year they are defoliated and it causes extraordinary concern among the public.
Spring and fall cankerworm eggs hatch in early spring and caterpillars feed for 5-6 weeks. They spend the rest of the summer pupating in mulch and leaf litter beneath trees. In October or November fall cankerworm adults emerge from pupae and climb up the trunk of nearby trees. They lay clusters of eggs in twigs then die. Spring cankerworms climb up trees in spring to lay eggs.
The female moths of both species climb because they do not wings. We can use sticky bands to capture them on the way up and prevent them from laying eggs. Sticky bands are made by wrapping duct tape or similar product around trees and covering it with sticky Tangle Footä. Though data is sparse for cankerworm control, these bands have reduced defoliation by other caterpillars such as gypsy moth and winter moth that also have climbing adults or larvae.
Bands need to be installed before fall cankerworms begin climbing up trees in October or November but we do not have a good way to predict this. One strategy is to band a tree outside of your office or anywhere that you will see it everyday. When you see the first moth, go out and band all the trees you intend to. Once bands are installed, they can trap so many moths that eventually moths can walk across the bodies and up the tree. So maintenance of the bands by cleaning them, replacing them, or reapplying Tangle Foot may be required. We are conducting research on cankerworms to determine how well the sticky bands work for reducing caterpillars and damage in willow oaks. The work is being conducted on campus by an undergraduate Bobby Chanthammavong and my technician Greg Bryant. You can follow our progress at http://ecoipm.org/research/cankerworm-project/. I will send alerts at different points in their lifecycle via Twitter (@OrnaPests) and my website (ecoIPM.com).
Steve Frank is Assistant Professor and Extension Specialist in the Department of Entomology at North Carolina State University. You can receive pest alerts and updates by following @OrnaPests on Twitter and checking his blog ecoipm.org.
Written by: Steven Frank, Department of Entomology, North Carolina State University, 919-515-8880 or steven_frank@ncsu.edu
Date: February 21, 2013